Modular, stable, cool and durable floating boat dock sections.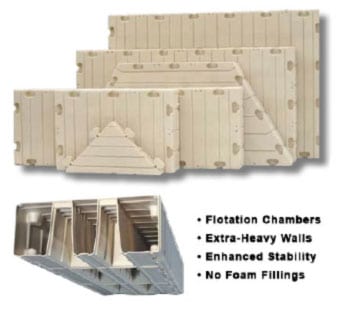 EZ Dock's exclusive beige and gray colored floating dock sections are attractive and cool to the touch, even on the hottest of summer days. EZ Docks' docking sections are rotomolded from low-linear density polyethylene, and have a patented hollow-chamber that creates pressure and suction-this is what makes EZ Dock the most stable floating dock system on the market. And since there is no foam, it is friendly to the environment.
The beige and gray colors allow light penetration, but are not hurt by UV rays. Patented coupler connectors are used to attach the dock sections. The special coupler design allows flexibility that works with the waves-not against them.
Both patented design features work together to create a more stable floating dock, pontoon, or jetty. Whatever you call your dock, EZ Dock invites you to walk on the competition, and then walk on a EZ Dock before your make your purchase. You will feel and see the difference with your very first step!
Easy Maintenance & Variety
Modular docks by EZ Dock are easy to maintain and come in a variety of anchoring options. Each floating boat dock section is part of a versatile modular design that remains securely connected. And since the dock is modular, you can design a dock system that has the perfect layout for your needs, or even add sections at later date.
EZ Dock's patented one-piece, self-floating design is fast and easy to install. You can choose to install the dock yourself or hire one of our authorized dealers to install for you. Most EZ Dock dealers have inventory on site, so you can get started right away. Choose the boat dock configuration that best suits your application, and give your local dealer a call today.
^